Doorbird is an elegant and cutting edge Video Doorbell and home Access Control system, made in Germany.
What does that mean?
It means if you have a Doorbird, and a visitor arrives at your door or gate, they can press a call button to let you know they are there. 10 years ago you would hear a 'Ding Dong' inside the house, but with a Doorbird you can:
Get notified on your smartphone, even if you aren't home
See live video on your smartphone to identify the visitor, even if you aren't home
Have a conversation with them on your smartphone, even if you aren't home
Open the door and let them in, that's right… even if you aren't home!
As well as being a communication device with your visitors (intercom), it's also a Security device. With a built-in motion sensor you can get notifications when it senses movement or someone has entered your property. You can also open the app at any time and view the live video. In fact, you can see the history of events you may have missed, all from the app. Therefore a Doorbird Video Doorbell is a massive step towards making your home and family secure and safe.
Doorbird can also be an Access Control hub for your home. Jeez what does that mean? Quite simply it means that you can use Doorbird doorbells and accessories, to control all the gates, garage doors, front doors, back doors, side doors, and shed doors. All can be controlled live from the app (and yes you guessed it… even when you're not home), or via schedules, keycodes, keyfobs, and fingerprints.
Everything you need for visitor and access control.


There is a huge range of models in an even larger range of finishes and colours. So matching your fence / gate / facade / door / architectural motifs… won't be a problem. Even if you can't find the right shape or model in the right finish, Doorbird has an online configurator where you can design your own intercom dimensions, buttons, colours, mounting style, and layout. An architects dream!
Basic functions
The DoorBird door communication and access solutions are consistently IP-based and offer a number of advantages, including:

Night-Vision
With superior infrared LEDs

HDTV Video
Ultra wide-angle hemispheric lens, 180°

Light sensor
For Night-Vision mode

Microphone
With active noise cancellation

Echo and noise suppression (AEC, ANR)

Configurable call button
With backlit Name tag

RFID reader
Remotely configurable via app (e.g. time window)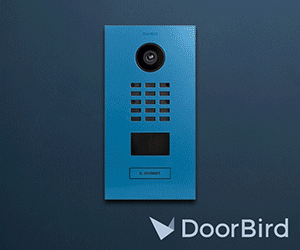 There's a few reasons why we believe Doorbird is the best option. It isn't the cheapest, and it isn't the most expensive, but it does have the best value and most options.
German precision, engineering, and design

3mm Stainless Steel fascia's, beautiful lines and aesthetics, and amazing engineering puts Doorbird in another league over plastic 'Video Doorbells' made in China

Built and Conceived as IOT

Many alternatives are old analogue technology, with a quickly conceived internet add-on. Therefore they can be troublesome and inconsistent. Try adding a touchscreen, air conditioning, and cruise control to a '72 Valiant, you'll get what we mean.

Video and Audio, but also Access Control

Other brands can see your visitor, and talk to your visitor, but that's only half the game. Most alternatives can't let your visitor in. What's the point in being able to answer the door when your at work, see it's your sister, talk to her, but then not be able to let her in? Particularly if it's to get a start on dinner! Access Control is the functionality that brings value to the video and audio element. All Doorbird models have at least 1 x relay that can open doors, gates, motorised driveway gates, or garage doors.

Most brands only integrate with Google or Alexa. Handy, but when you break it down there really aren't that many things you can do with that connection. Doorbird integrate with many brands of home Control System, CCTV, SIP Phones, and Smart Door Locks. These are functional integrations that bring many real benefits when connecting with your other technologies. Doorbird are progressive, and offer an open API to encourage cooperation with other brands and technologies in your home.

Make a statement or blend right in, mirror your elegant gate or match your bold coloured front door. While some brands have 1 or 2 colour options, Doorbird has 5 options in most models, and 50+ in particular models. Not only that, but almost every Doorbird comes in surface mount or flush mount. With extensive colour and finish options, Doorbird lets you make a statement, or subtly accentuate an architectural motif.

50+ colours and finishes and surface or flush mount options not enough? You need to fill a particular space or match a certain feature? Doorbird have an online configurator that allows you to design your own fascia and layout. No other brand can customise their intercom to suit exactly what you need. See the configurator here.

Doorbird often gets compared to products such as Ring and Arlo Video doorbells. It shouldn't. For all the reasons above it is a very different product to those plastic devices that share some similar technology. That's not to say those products aren't good, but if even one of the points above resonates with you, then there will be no comparison.
Doorbird should be compared with brands such as 2N. However if it is, the value, technology, and range will make it a clear winner.