Market leading Video IP Intercom and Doorbell
The D1101KV model is brand new and has a beautiful stainless steel fascia in a range of finishes, all the essential Doorbird functionality, 1 x door release relay's, and newly introduced Bluetooth for simple access control.
It is suited to a single residence or commercial property with 1 call button..
This model is the Flush Mount version which means you attach the Doorbird and it's backbox to a flat surface and it sits proud.
The Keypad allows for access control via a numeric code. You can set codes for the gardener, that only works on Thursdays and only opens the driveway gate. You can set a code for your teenager that works at all times and opens the gate and the front door. Or you can set a code for once off use for the neighbour who has offered to take the bins out while you are away.
Multiple Fascia's available - V2A Stainless Steel is IP65, V4A in Stainless Steel is IP65 with chrome-nickel steel with molybdenum additive for harsh conditions and is Salt-Water resistant, several PVD coated stainless finishes, and many powder coated metal finishes.

You can see your visitors, speak with them and open the door by smartphone or tablet – from anywhere in the world. DoorBird combines innovative technology with elegant design. A smart solution – Designed and manufactured in Germany.
High tech makes life easier
With DoorBird you will not miss any more deliveries – because you will be informed right away when the postman rings.
Security comes first
Do not compromise on safety. Most burglaries happen during the day when no one is at home. With the DoorBird you can respond to visitors from anywhere in the world.
Nothing escapes the motion sensor
Great all-round visibility: Thanks to the integrated high-end motion sensor you always know what happens in front of your home. The 180° infrared motion sensor can, if desired, set off an alarm, or notify you – without the visitor having rung the doorbell.
It is as simple as that...

Bluetooth Low Energy (BLE)
• For access control,compatible externalsensors and smart locks. (future firmware update)

• Full HD 1080P

• Ultra wide-angle,hemispheric lens, 200°

• Works within a WiFi network,no LAN cable needed

• On smartphones, tablets(iOS, Android), IP andlandline phones (SIP)


• Configurable via App
• More than 100 individualPIN codes
• Individual events (e.g.:alarm system control)

Motion Sensor with 4D Technology
• Distance up to 6 madjustable via App(interval: 1 m)

• Quick installation viaQR code scan

One freely configurablebi-stable switching relay
• Control one door or gatevia App
• Status configurablevia App: temporary orpermanent circuit


• Store still images for free.Optional video recordingavailable.

• Automatic door and gateopening when returninghome

• Prevents more break-insthan an alarm system

• For use in medical officesand office environments

Individual Action Schedules eg:
• 4D motion sensor switcheson external lamp between9 pm and 6 am


• Real-time audio / videocommunication, optimizedfor mobile devices viaWiFi, 3G, 4G, 5G

• Local interface forintegration with third-partysystems and SIP

• Noise reduction and echo cancellation (AEC, ANR)

To find out more about the different types of finishes on DoorBird's, see our page here

Stainless steel V2A, brushed

Stainless steel V4A (salt-water and grinding dust resistant), brushed
PVD Coated Stainless Steel

Bronze-finish as PVD coating, stainless steel, brushed


Gold-finish as PVD coating, stainless steel, brushed

Chrome-finish as PVD coating, stainless steel, high-gloss polished

Brass-finish as PVD coating, stainless steel, high-gloss polished
Powder Coated Stainless Steel















Mounting housing(backbox)
Flush-mounted,
surface-mounted version sold separately
12 keys, illuminated, configurable via App, e.g.
• Individual PIN codes
• Individual events (e.g. switch a relay, HTTP(s) request)
• Individual schedules
• Up to 500 PIN codes manageable
15 V DC (max. 15 W) or Power over Ethernet(PoE 802.3af Mode-A)
• LAN/PoE (T+, T-, R+, R-)
• Bistable latching relay, max. 1-24 V DC/AC, 1 A, e.g. for electric door opener
• External input for external door opener button
• 15 V DC input (+, -), max. 15 W
IP65, CE, FCC, IC, RoHS, REACH, IEC/EN 62368,IEC/EN 62471, Wi-Fi CERTIFIED™
263,00 x 85.00 x 26,7 mm (H x W x D)
10.35 x 3.35 x 1.05 in (H x W x D)
1x Main Electrical Unit1x Front panel1x Flush-mounting housing (backbox)1x Power supply unit (mains adaptor) with4 country-specific outlet adaptors(110 - 240 V AC to 15 V DC)1x Screwdriver1x Quickstart guide with Digital Passport1x Installation manual1x Small parts
Current System Requirements
Mobile device: Newest iOS oniPhone/iPad, newest Android onSmartphone/Tablet
Internet: High-Speed Landline BroadbandInternet connection, DSL, cable or fiber optic,no socks or proxy server
Network: Ethernet Network, with DHCP
Recommendedinstallation height
Camera lens should be at a min. height of145 cm (57 in). Before the installation pleasedetermine your optimal installation height.
HDTV 1080p, dynamic (VGA – HDTV)
High-end ultra wide-angle hemispheric lens200° (D), 150° (H), 90° (V), straightened,IR-capable
Yes, light sensor, automatic IR-cut filter,12 Infrared LEDs (850 nm)
Speaker and microphone, noise reduction andecho cancellation (ANR, AEC)
PoE 802.3af Mode-A, 10/100 Base-T
HTTP, HTTPS, SSL/TLS, Bonjour, DNS, RTSP, RTP,TCP, UDP, RTCP, ICMP, DHCP, ARP, SIP, DTMF(RTP [RFC-2833], SIP INFO [RFC-2976]), STM
1 - 6 m (3.3 - 19.7 ft), depends on environment,configurable in 1 m (3.3 ft) steps.
4D. Based on multiple integrated sensors andalgorithms, e.g. Radio Frequency Energy (RFE)
Via App, e.g.• Range (1 - 6 m / 3.3 - 19.7 ft)• Movement direction (coming, leaving, both)• Individual events (e.g. switch a relay,push notification, SIP call [audio/video],HTTP(s) requests)• Individual schedules
Integrated Wireless Modules
Bluetooth Low Energy (BLE), compatible with DoorBird Bluetooth Keyfob Remote A8007

How to connect a DoorBird IP door intercom to the App




How to Register RFID Transponders

How to Set Up a 4D Motion Sensor

How to Add an IP Door Chime
How to Reset a DoorBird to Factory Defaults
Shipping
At Doorbird Intercom, our aim is to keep stock locally in Australia, of all the key models in the fantastic range of Doorbird Intercom systems. That's the good news. The other good news is that if we don't have it here, it's only 10 days to 2 weeks away.
At doorbird intercom, we look for the best and fastest freight forwarder we can. However, depending on where you live, it may be a different provider than other customers. We choose from the top couriers based on which is the best value for your area.
If we have an item in stock...Shipping is 2 to 4 days on average
If we don't have an item in stock...Shipping is 10 to 20 days on average
If we don't have your chosen product in stock, it may be already on it's way to us. If it isn't, we will order it straight away and have it to you within 2 weeks. The average is 10 days.
Returns Policy
We're happy if you're happy. If you're not happy then we will do our best to make you happy. If for some reason you are not satisfied with the products you have purchased, you can return them within 30 days.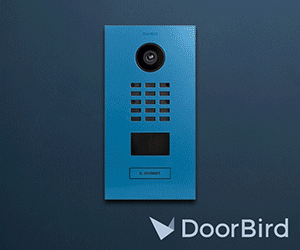 There's a few reasons why we believe Doorbird is the best option. It isn't the cheapest, and it isn't the most expensive, but it does have the best value and most options.
German precision, engineering, and design

3mm Stainless Steel fascia's, beautiful lines and aesthetics, and amazing engineering puts Doorbird in another league over plastic 'Video Doorbells' made in China

Built and Conceived as IOT

Many alternatives are old analogue technology, with a quickly conceived internet add-on. Therefore they can be troublesome and inconsistent. Try adding a touchscreen, air conditioning, and cruise control to a '72 Valiant, you'll get what we mean.

Video and Audio, but also Access Control

Other brands can see your visitor, and talk to your visitor, but that's only half the game. Most alternatives can't let your visitor in. What's the point in being able to answer the door when your at work, see it's your sister, talk to her, but then not be able to let her in? Particularly if it's to get a start on dinner! Access Control is the functionality that brings value to the video and audio element. All Doorbird models have at least 1 x relay that can open doors, gates, motorised driveway gates, or garage doors.

Most brands only integrate with Google or Alexa. Handy, but when you break it down there really aren't that many things you can do with that connection. Doorbird integrate with many brands of home Control System, CCTV, SIP Phones, and Smart Door Locks. These are functional integrations that bring many real benefits when connecting with your other technologies. Doorbird are progressive, and offer an open API to encourage cooperation with other brands and technologies in your home.

Make a statement or blend right in, mirror your elegant gate or match your bold coloured front door. While some brands have 1 or 2 colour options, Doorbird has 5 options in most models, and 50+ in particular models. Not only that, but almost every Doorbird comes in surface mount or flush mount. With extensive colour and finish options, Doorbird lets you make a statement, or subtly accentuate an architectural motif.

50+ colours and finishes and surface or flush mount options not enough? You need to fill a particular space or match a certain feature? Doorbird have an online configurator that allows you to design your own fascia and layout. No other brand can customise their intercom to suit exactly what you need. See the configurator here.

Doorbird often gets compared to products such as Ring and Arlo Video doorbells. It shouldn't. For all the reasons above it is a very different product to those plastic devices that share some similar technology. That's not to say those products aren't good, but if even one of the points above resonates with you, then there will be no comparison.
Doorbird should be compared with brands such as 2N. However if it is, the value, technology, and range will make it a clear winner.


Answer Your Door Anywhere..!


Ask us about this product...